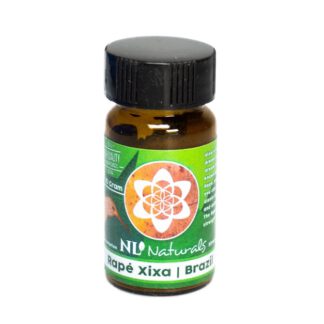 Xixa Rapé - 10 gram
€

24.50
Read more
Your rapé to use with a traditional Kuripe or Tepi? Then click here for our range of Kuripe and Tepi.
View the special effects of rapé on body and mind
Smart Bazar store and webshop
Smart Bazar is the place to be special rapé to buy tobacco or an original Kuripe. You will find traditional and sustainably produced products here. In doing so, we try to provide you with as much information as possible about proper use and operation. Finally, we only sell 100% original rapé. sourced directly from the Amazonian tribes.
Rapé order
Wide range of special rapé.
Sustainable and well-known origin.
Guaranteed high-quality products.
Always a quick response and personal contact with all your questions
Reliable because with a physical store, come by 🠙 '
A responsible experience
All our items are readily available for purchase and allow you to have an intense experience in a legal, healthy and therefore responsible manner. If you want your rapé If you order before 18.00 p.m. through our webshop, you will often receive it the next day. Of course we do not handle the delivery of the mail so that abnormal delays are unfortunately beyond our control. Normally, however, this is not the case. Of course all our shamanic articles are sent to you discreetly packaged.
Our service
When you choose our rapé or Kuripe you get a fast and excellent service. All items have been carefully selected by us to give you the most special experience possible. For example, they are selected on various points such as durability, efficacy and no to minor side effects. All our purchases are carefully checked before they are shipped to you. Smart Bazar is only satisfied with the best quality and you benefit from it! In addition, we maintain close contact with our suppliers to know all the ins and outs of the brands and products we supply. Because of this we try to make the best possible match with the wishes that you have as a customer
If you have any special wishes or questions, please do not hesitate to contact us. We are happy to guide you in making your choice. At the bottom of every page you will find our contact information.
24 hours a day & 7 days a week
Our webshop is open 24 hours a day, 7 days a week. So you can place your online order at any time. We are also always ready to answer you as soon as possible with questions about your order.
Our pluses at a glance
Original products
Knowledge of origin and information about correct use.
Fast delivery.
Open for orders 24 hours a day, 7 days a week.
Special range of rapé, Kuripe, Tepi and more.
Always a quick response and personal contact with all your questions.
100% reliable through our physical store. Feel free to visit us to view our complete range of shops. For example, in addition to smartshop and headshop products, we also have clothing, art, books, gemstones and curiosities.
Your rapé tobacco usually arrives at home within 1 to 2 working days. Different delivery times apply for Europe. See the page for this SEND INFORMATION
Result 1-18 is shown of the 38 results
Result 1-18 is shown of the 38 results